Marketing for horsemen by horsemen.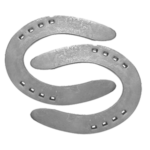 The Equine Designs logo came from the Hopi friendship symbol. I got it as a tattoo with 2 other girls to memoralize the moment.
Since 2000 there have been others to use two horse shoes as their logo, so why not move on.
---
To update the logo in 2023 I added a cross.
I like all the angles from the cross, as well as the meaning of the cross.
The Cross means love. Christ died for sinners. He died for people who had lost their way. He did not die because it was forced upon him. It was a choice. A choice made in love.
But God showed his great love for us by sending Christ to die for us while we were still sinners (Romans 5:8).